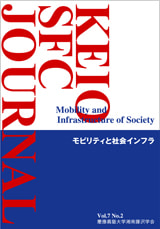 Social Infrastructure for Sustainable Mobility

| | |
| --- | --- |
| Hironao Kawashima Professor, Faculty of Science and Technology, Keio University | |

Reduction of environmental load is an unavoidable factor for considering the future of mobility. In order to harmonize the conflicting factors, not only the technological developments in the transport sector but also various institutional and organizational issues should be considered. From the perspective of international standardization, the issues related to attain sustainable mobility are discussed based on the interaction between ICT and road transport which has been materialized in ITS.

Download this article (PDF): SFCJ7-2-01.pdf

The 21st Century Technology and Electric Vehicles

| | |
| --- | --- |
| Hiroshi Shimizu Professor, Faculty of Environment and Information Studies, Keio University | |

An electric vehicle has a potential to solve the global warming dramatically. Lithium-ion battery, permanent magnet motor and high efficient transistor were invented. Those are the application of quantum mechanics and commercialized at the beginning of the 21st century. The integrated platform for an electric vehicle is the useful structure to apply the 21st century technology. High acceleration feeling, space and comfort could be realized by the technology. A super electric vehicle Eliica was developed by using the technology. Electric vehicle will extend to automatic driving to build a new community

Download this article (PDF): SFCJ7-2-02.pdf

Expectation to LRT from the Universal Transportation Viewpoint

| | |
| --- | --- |
| Makoto Arisawa Professor, Faculty of Environment and Information Studies, Keio University | |

Automobile dependent city transportation system has serious defects, and such problem will be tackled fron public transportaion network including new generation Light Rail Transit. Transit mall and compact city planning are in the same perspectives. In some Europe and US cities, as well as some Japanese middle sized cities, this is becoming a future trend.

Download this article (PDF): SFCJ7-2-03.pdf
Development and Evaluation of Data Transmission Algorithms for Decentralized Vehicle Probing Systems

| | |
| --- | --- |
| Takaaki Ishida Research Associate, Research Institute for Digital Media and Content, Keio University | |
| Masaaki Sato Research Associate, Graduate School of Media and Governance, Keio University | |
| Masayoshi Imaike CEO, FEAC International Corp | |
| Ryota Horiguchi CEO, i-Transport Lab. Co., Ltd | |
| Koji Wada Chief Researcher, ITS Center of Japan Automobile Research Institute | |
| Keisuke Uehara Associate Professor, Graduate School of Media and Governance, Keio University | |
| Jun Murai Professor, Faculty of Environment and Information Studies, Keio University | |

Decentralized Vehicle Probing System (which we call "Centerless Probe Car Information System") is a probe car information system that requires neither centralized servers nor network infrastructure for generating and delivering probe data. Since it utilizes inter-vehicle communication using short range Wireless LAN devices without connecting to wide area networks for data transmission, unified transmission algorithms are required to be shared among vehicles to forward the data to the adequate area. We developed transmission algorithms to realize fundamental propagation models for general probe car information systems. By simulating situations where the system is used for road-traffic-information-providing service in western area of Tokyo at the installation phase of our system, we have confirmed that the algorithms worked effectively in the process of collection and integration of probe data.

A Study on the Relationship between Controlled Publications and Popular Ideas in Late Chosun Dynasty − The diffusion and regulation of Seohak and Donghak

| | |
| --- | --- |
| Yoon Hanna Doctoral Program, Graduate School of Media and Governance, Keio University | |

Several types of control had been introduced by the Establishment to prevent the social transformation led by the popularization of "Seohak" and "Donghak appeared in the late Chosun period. In this research, I have analyzed what measures were chosen and exercised by the Chosun Dynasty in the purpose of controlling common thought by describing how the publication and distribution of books are regulated in the late Chosun period. This analysis is based on the literal descriptions found in historical materials.

Download this article (PDF): SFCJ7-2-05.pdf

Implications of Pragmatism in English Educational Theory − A new paradigm of English education derived from R. Rorty,s 'ethnocentrism and lexicology'

| | |
| --- | --- |
| Tsukasa Yamanaka Doctoral Program, Graduate School of Media and Governance, Keio University Research Fellow of the Japan Society for the Promotion of Science (DC2) | |

English education in Japan has been in the midst of drastic change from the latter half of the twentieth century onwards and those engaged in the field should now engage in far-reaching debate in the light of this possible paradigm shift in English education, rather than merely considering issues of practicality and efficiency. This article considers a new paradigm in English education in Japan from the perspective of pragmatism, both theoretically and practically. Reinterpreting Rorty's "philosophy of hope" in the context of English education, this article affirms the significance of a project-oriented English education method where messages are transmitted according to the interests and values of the individual.

Download this article (PDF): SFCJ7-2-06.pdf

La justice pénale en démocratie − Une réflexion d'Alexis de Tocqueville sur le système pénitentiaire

| | |
| --- | --- |
| Yasutake Miyashiro Doctoral School, Political Philosophy and Ethics, University of Paris- Sorbonne (Paris IV) | |

Comment penser la justice pénale en démocratie? Comment appliquer les principes du libéralisme au système carcéral? Comment concevoir une limitation juridique compatible avec la société libre? Dans cet article, nous abordons ces questions en mettant la philosophie pénale d' Alexis de Tocqueville au centre de nos interrogations. La problématique majeure tourne autour d' un double pôle : la neutralité de l' État d' une part et, d' autre part, la décentralisation en tant que réforme institutionnelle. Autrement dit, il s' agit d' une réflexion à la fois théorique et pratique sur la philosophie juridico-politique appliquée à la sphère de la justice pénale en tenant compte des aspects historiques.

Download this article (PDF): SFCJ7-2-07.pdf

A User Participatory Exhibition Design in Zoo

| | |
| --- | --- |
| Yutaro Ohashi Doctoral Program, Graduate School of Media and Governance, Keio University | |
| Hideaki Ogawa Artist & Creator, Artist in Residence, Ars Electronica Future Lab | |
| Taizo Zushi Representative Director, aery Co.,Ltd. | |
| Shuichi Nagata Doctral Program, Graduate School of Media and Governance, Keio University | |
| Makoto Arisawa Professor, Faculty of Environment and Information Studies, Keio University | |

In this research, we implemented a new way of exhibition design, which contains mobile technology, network technology and various data in the theme of "Exhibition design, which users can participate in the exhibition in a zoo". In the concrete, we held an exhibition, which called "Being exhibition" from 26th April to 6th May in Inokashira Park Zoo in Tokyo. In the exhibition, several systems realized "Information-based exhibition", which expand the idea of"Activity-based exhibition", the most popular way to exhibit in zoo, with information technology. According to the evaluation on each system, we found that a number of the participants who made positive assessments were statistically-meaningful.

Structuring and Evaluation of TV Dramas − Analysis and interpretation of free answers using text mining

| | |
| --- | --- |
| Sae Seno Doctoral Program, Graduate School of Media and Governance, Keio University | |

It becomes realistic to get an amount of information which could not be possible until recently. This article presents a quantitative and interpretive analytical method for large amount of free answers from the Internet about TV dramas. Firstly TV dramas are structured quantitatively by the automatic classification of free answers and clustering of TV dramas. Secondly factors expected from audience are picked out interpretively by comparative analysis of the structure of TV drama using TextImi and Key Graph. From the above results, we evaluate TV dramas based on various needs of audiences.

Download this article (PDF): SFCJ7-2-09.pdf
Linear Ordinary Differential Equations and Fermat Equations

| | |
| --- | --- |
| Keiji Nishioka Professor, Faculty of Environment and Information Studies, Keio University | |

A theorem analogous to Picard's theorem on representation of a plane algebraic curve of genus greater than 1 with meromorphic functions will be proved. Its enunciation will be done for elements in a Fuchsian extension defined in this note instead of considering for meromorphic functions. As seen straightforwardly, a differential extension generated with solutions of linear ordinary differential equations turns out to be Fuchsian, hence the theorem deduces a corollary that solutions of linear ordinary differential equations substaintially satisfy no Fermat equations.

Download this article (PDF): SFCJ7-2-10.pdf

Significance in the Assessment of the Conceptual Structure that Uses Association Experiments for Schizophrenics − The number of words and distance between concepts

| | |
| --- | --- |
| Kai Seino Doctoral Program, Graduate School of Media and Governance, Keio University Research Fellow of the Japan Society for the Promotion of Science | |

This research examined conceptual structures of schizophrenic patients' semantic memories. It employed an associative concept dictionary which was built by using large-scale association experiments to simulate the semantic memories. From the association experiments, (1) the total number of associated words, (2) number of different associated words among the total number, and (3) the decrease rate were obtained and used to examine the relationships between the memories and the dictionary. In addition, the correlation coefficients of distances between concepts in the following three groups, schizophrenic patients, controls, and the associative concept dictionary, were examined to show the validity of this research. It was suggested that there be limited and overspecialized knowledge with regard to the schizophrenic patients.